Wishbone Studios
1920 Webster Avenue, Muscle Shoals, AL
256-389-1996
www.wishbonestudios.com
Tours available by appointment. Admission is charged.
---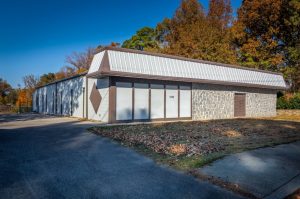 Wishbone Studios has served the music and recording industry since 1976. In the early years hits were recorded by Hank Williams Jr., The Commodores, Roy Orbison, Waylon Jennings, Charlie Daniels, Thelma Houston, The Temptations, The Supremes and many others. Billboard's 1978 Song of the Year "Angel in Your Arms" was recorded here. The legacy continues under the ownership of Bud and Mike McGuire. The studio is the home of country supergroup Shenandoah. Wishbone is ushering in a new era of the Muscle Shoals sound with recordings of southern gospel, praise and worship music and other projects.
Personnel
Owners:
• Clayton Ivey (1971-1982)
• Terry Woodford (1971- 1984)
• Bud McGuire
Producers:
• Clayton Ivey
• Terry Woodford
• Alan Schulman
Writers and Musicians:
• Clayton Ivey
• Mac McAnally
• Robert Byrne
• Tommy Brasfield
• Donnie Lowery
Artists:
• The Commodores
• The Temptations
• The Supremes
---
Discography
1976:
• Pete Carr, Not a Word on It
• Garland Green, "I.O.U."
1977:
• Hank Williams, Jr., One Night Stands
• Mac McAnally, Mac McAnally
• Hot, Hot
• Hot, "Angel in Your Arms"
• LeBlanc and Carr, Midnight Light*
• Barbara Wyrick, A Taste Of
• Phillip Jarrell, I Sing My Songs for You*
• Bill Brandon, Bill Brandon*
• Ann Sexton, The Beginning*
1978:
• Mac McAnally, No Problem Here
• Wayne Newton, Change of Heart
• Saturday Night Band, Come On Dance, Dance 
• Hoodoo Rhythm Devils, All Kidding Aside
• Rudy Love and the Love Family, This Song Is for You*
• Hot, If That's the Way You Want It... You Got It
• John Kay, All in Good Time
1979:
• Roy Orbison, Laminar Flow
• Robert Byrne, Blame It on the Night
• Funky Communication Committee, Baby I Want You
1980:
• Mac McAnally, Cuttin' Corners
• Millie Jackson, For Men Only
• Teddy Huffman and the Gems, Incredible
1981:
• Kelly Hunt and the Kinetics, Blue Light Special
1983:
• Mac McAnally, Nothing But the Truth
• Mac McAnally, "Minimum Love"
• Allen Collins Band, Here, There and Back*
1985:
• Ziggy Mahoney, Just Looking
1986:
• Danzig Band, D. Tales
• Kelly Willard, Message from a King*