Broadway Sound Studio
1307 Broadway St., Sheffield, AL
---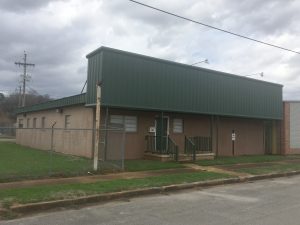 In 1968, Quin Ivy moved his Quinvy Studio (formerly Norala Sound Studio) to a new facility at 1307 Broadway Street in Sheffield. When Ivy left the music business four years later, he sold the building to Quinvy engineer David Johnson, who renamed it Broadway Sound Studio. Under Johnson's direction, the studio specialized in what would later be known as "Southern rock," recording such seminal acts as Mama's Pride, the Outlaws, and a pre-fame Lynyrd Skynyrd. The studio closed in 1989.
Personnel
Owners:
• Quin Ivy (1968-1972)
• David Johnson (1972-1989)
---
Discography
1968:
• Percy Sledge, "You're All Around Me"
• Jeanie Greene, "Sure as Sin"
• Jeanie Greene, "I've Been a Long Time Loving You"
• Tony Borders, "I Met Her in Church"
• Percy Sledge, Take Time to Know Her*
1969:
• Barry Goldberg, Two Jews Blues*
• Judy White, "Satisfaction Guaranteed"
• Ruby Winters, "Always David"
• Z.Z. Hill, "(Home Just Ain't Home at) Suppertime"
1970:
• Percy Sledge, "Too Many Rivers to Cross"
• Lynyrd Skynyrd, Collectybles*
1971:
• Z.Z. Hill, The Brand New Z.Z. Hill
• Z.Z. Hill, "Chokin' Kind"
• Freddie North, Friend
• Freddie North, "She's All I Got"
• Swamp Dogg, Rat On!
1972:
• J.J. Cale, Really*
• Marlin Greene, Tiptoe Past the Dragon*
• Swamp Dogg, Cuffed, Collared and Tagged*
• Z.Z. Hill, "Second Chance"
1973:
• Freddie North, "You're Killing Me Slowly But Surely"
1975:
• Percy Sledge, I'll Be Your Everything
1976:
• Lenny LeBlanc, Lenny LeBlanc
1983:
• Percy Sledge, Percy!
• Swamp Dogg, Unmuzzled!*
1985:
• Clarence Carter, Dr. C.C.
• Clarence Carter, "Strokin'"
1989:
• Percy Sledge, Wanted Again