Studios
---
Tune Records • Spar Music • FAME Studios • Norala Sound Studio • Broadway Sound Studio • Muscle Shoals Sound Studio • Widget Recording Studio • Wishbone Studios • Music Mill • Cypress Moon Studios
---
Rick Hall is widely credited with establishing Muscle Shoals as "The Hit Recording Capital of the World," but it was bluegrass musician Dexter Johnson who established the area's first professional recording studio in 1951, a decade before Hall's FAME opened its doors.
"On Sunday afternoons, you would find cars parked all up and down the alley in front of the house. People waiting to get in and record a song." –Dexter Johnson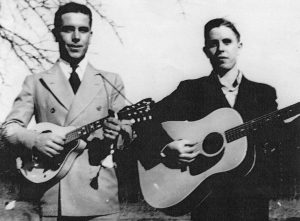 Born in 1918, Dexter grew up on a farm in Iuka, Mississippi, and learned to play guitar and mandolin at an early age. By the time he was 14, he and his brother Ray were performing together as a duo and appearing regularly on Sheffield radio station WNRA (later known as WLAY).
In 1938, Dexter moved to the Shoals with his wife Grace, took a job with TVA, and settled into the Sheffield home where he would later build his studio. Several big-name talents made early demo recordings in Dexter's garage, including Sue Richards and Kenneth Lovelace, who became famous as Jerry Lee Lewis' guitarist and bandleader. Perhaps most significantly for the future of Muscle Shoals music, Dexter's nephew Jimmy Johnson got his first taste of recording in his uncle's studio.
"Dexter inspired a lot of musicians around here. As time went on, he kept his hand in. Tanya Tucker even cut her first demo at Dexter's in the 70s. When I cut my first session at FAME in '62, guess who was in the control room? Dexter! He talked Rick Hall into hiring me." –Jimmy Johnson