Tune Records
123 E. Alabama Ave., Florence, AL
---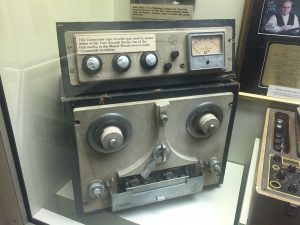 Tune Records and Publishing Company was established in Florence in 1956 by James Joiner, Walter Stovall, Kelso Herston and Marvin Wilson. Joiner and Herston ran Tune out of the Joiner family's Greyhound bus station, right down the street from the Florence Indian Mound. Joiner and his colleagues set up a modest demo studio in the bus station diner, using an adjoining office as a control room.
"We started at the bus station and then moved over [to] the Ryan Piano Company on Court Street. There were some lawyers there and they complained, so we moved to the Ritz Theater in Sheffield and also did some recordings at local radio station WLAY." –Kelso Herston
One song recorded at WLAY was "A Fallen Star," written by Joiner, published by Tune, and performed by local high school student Bobby Denton. The song became a regional hit for Denton in 1957, and was subsequently recorded by a number of other artists, including Ferlin Husky, Jimmy C. Newman, Nick Noble, and the Hilltoppers.
Following the success of "A Fallen Star," word of the Shoals' burgeoning recording industry spread across the state, attracting a number of aspiring songwriters and musicians to the area. Among them were Rick Hall and Billy Sherrill of Hamilton-based band The Fairlaines, who began making weekly trips to the Shoals to pitch their material to Joiner. One of the pair's Tune-published songs, "Sweet and Innocent," was recorded by Roy Orbison in 1958, and would eventually be re-recorded with greater success (and with Hall as producer) by Donny Osmond.
"Muscle Shoals represented a proving ground, a crack in the door to Nashville. If they could slip their foot in there, the next step wouldn't be so hard." –Christopher S. Fuqua
Tune also released four singles by rockabilly pioneer Junior Thompson in 1957, including "How Come You Do Me?" Joiner never managed to replicate the success of "A Fallen Star," however, and by the end of the decade, he had returned to the family bus business full-time. In 1959, he set the stage for the next chapter in Muscle Shoals music history when he introduced Hall and Sherrill to a "local bohemian type" named Tom Stafford.
Personnel
Owners:
• James Joiner (1956- )
• Kelso Herston (1956-1959)
Writers:
• James Joiner
• Rick Hall
• Billy Sherrill
Musicians:
• David Briggs (keyboards)
---
Discography
 1957:
• Bobby Denton, "A Fallen Star"
• Bobby Denton, "Lover's Paradise"
• Marlin Greene, "Wishful Thinking"
• Junior Thompson, "How Come You Do Me?"