Historic Markers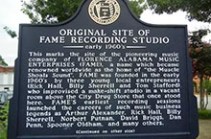 FAME
Corner of Tennessee and Seminary Streets
Florence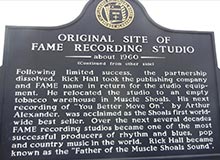 The historic marker is located at the original site of FAME Recording Studios (Florence Alabama Music Enterprises). In the early 1960s, the studio was located in a room above the City Drug Store before moving to its current location in Muscle Shoals.
Mississippi Blues Trail
61 Highway 72 West
Tuscumbia
Musicians have long crossed the Alabama-Mississippi border to perform and record. Mississippians such as Albert King, Little Milton and Pops Staples recorded at studios in Muscle Shoals and Sheffield, including those owned by Mississippi natives Rick Hall and Quin Ivy. Florence native W. C. Handy encountered the blues while working in the Mississippi Delta.
Sam Phillips
Grounds of Marriott Shoals
800 Cox Creek Parkway South
Florence
Born in Florence, Alabama in 1923, Phillips moved to Memphis in 1950. In the following years, he revolutionized American music with his discovery of the dynamic Elvis Presley. His Sun Record label recorded the music of Johnny Cash, Carl Perkins, Jerry Lee Lewis, B.B. King, Howlin' Wolf and many others during its 16-year existence.