Attractions
Alabama Music Hall of Fame
617 U.S. 72 West
Tuscumbia
Tuesday-Saturday
9 a.m. – 5 p.m.
Admission is charged. 
The Alabama Music Hall of Fame preserves and promotes the state's musical heritage and honors and celebrates its native musicians. The Hall of Fame Gallery features portraits of artists who have made exceptional musical contributions. Inductees include Nat King Cole, Hank Williams, W.C. Handy, Percy Sledge, Tammy Wynette, Lionel Richie, Emmylou Harris, ALABAMA and more. The museum's exhibits tell of Alabama's contributions to pop, country, blues and rock 'n' roll music. A tour highlight is the Muscle Shoals section which tells the story of the region's reign as Hit-Making Capital of the World in the 1960s and 70s.
For more information:
800-239-2643
256-381-4417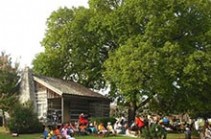 W.C. Handy Birthplace, Museum and Library
620 West College St.
Florence
Tuesday-Saturday
10:00 a.m. – 4:00 p.m.
Admission is charged
W.C. Handy, the Father of the Blues, was born in Florence in 1873 in a log cabin his grandfather had built by hand. A historic marker commemorates the home's original site at the corner of Cherokee and Beale streets. The two-room house was relocated to this site in 1968. The home and museum display a large collection of Handy's personal papers, memorabilia, photographs and artifacts including handwritten sheets of music for many of his famous tunes. Credited with popularizing the blues in the early 20th century, Handy's best-known works include Memphis Blues, Yellow Dog Blues, Saint Louis Blues and Beale Street Blues.
For more information
256-760-6434
www.visitflorenceal.com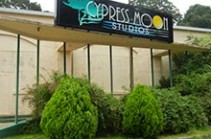 Cypress Moon Studio/Muscle Shoals Sound Studio
1000 Alabama Avenue
Sheffield
Tours available by appointment
Admission is charged
Muscle Shoals Sound Studio was opened in a building on Jackson Highway in 1969 when musicians from FAME's Muscle Shoals Rhythm Section (known as the Swampers) formed their own studio. The studio moved to this location in the late 1970s. Artists who have recorded here include Bob Dylan, Bob Seger, Julian Lennon, Lynyrd Skynyrd, Isaac Hayes, the Oak Ridge Boys, Etta James, Jimmy Buffet and many others. Today the building houses Cypress Moon Studio, a film and music production company. Movies produced by the studio include "When I Find the Ocean," recipient of five Dove Awards, and "The Story of Bonnie and Clyde." Plans in development include a "Moonwalk" Walk of Fame to honor artists, producers, musicians and publishing companies, as well as writers, directors and actors who have worked at the studio.
For more information
256-381-5745
www.cypressmoonproductions.com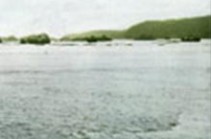 The Singing River – Tennessee River
McFarland Park
Florence
Riverfront Park
Sheffield
Legend says that the Yuchie Tribe called the Tennessee River "the singing river" because the flowing waters sounded like a woman singing. The sounds of the shoals are now buried by the reservoirs of TVA's Wilson and Wheeler dams, but the Alabama State Legislature honored the legend – and Muscle Shoals' place in the music world – by renaming the new bridge near the Wilson Dam "The Singing River Bridge."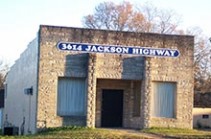 Muscle Shoals Sound Studio
3614 Jackson Highway
Sheffield
Hours: 10 a.m. – 5 p.m. Monday-Sunday
Tour Times: 10:30 a.m., 11:30 a.m., 12:30 p.m., 1:30 p.m., 2:30 p.m., 3:30 p.m. and 4:30 p.m.
Admission: $12 per person, $10 per person for groups over 20 people and 6 years and under FREE
Reservations are not accepted; all scheduled tours are first come, first serve.
To book a group tour, call 256-978-5151
The studio opened here in 1969 when the Muscle Shoals Rhythm Section (known as the Swampers) left FAME Recording Studios to start their own enterprise. The studio was the setting for Cher's 1969 album titled 3614 Jackson Highway. The album's cover featured Cher and her band standing in front of the studio building. This success was followed by a multitude of artists recording here including Leon Russell, Jimmy Cliff, Linda Ronstadt, Rod Stewart, Wilson Pickett, James Brown, Millie Jackson, Willie Nelson, Boz Scaggs, Bobby Womack, Bonnie Bramlett, Wendy Waldman, Mary McGregor, Art Garfunkel, Peter Yarrow, Ronee Blakely and many others. In the late 1970s, the studio relocated to Alabama Avenue. In 2013, the Muscle Shoals Music Foundation bought the studio with plans to develop the site as a museum of Muscle Shoals music history. The site is listed on the National Register of Historic Places.
Wishbone Recording Studios
1920 Webster Avenue
Muscle Shoals
Tours available by appointment
Admission is charged
Wishbone Studios has served the music and recording industry since 1976. In the early years hits were recorded by Hank Williams Jr., The Commodores, Roy Orbison, Waylon Jennings, Charlie Daniels, Thelma Houston, The Temptations, The Supremes and many others. Billboard's 1978 Song of the Year "Angel in Your Arms" was recorded here. The legacy continues under the ownership of Bud and Mike McGuire. The studio is the home of country supergroup Shenandoah. Wishbone is ushering in a new era of the Muscle Shoals sounds with recordings of southern gospel, praise and worship music and other projects.
For more information
256-389-1996
www.wishbonestudios.com
Singing River Sculptures
Sheffield-Love Plaza
Intersection of Alabama Street and Montgomery
Sheffield
The 18-foot tall semi-abstract sculpture of a 1950s-era singer was created from recycled aluminium by Tuscumbia metalwork artist Audwin McGee. Unveiled in September, 2012, it is the first of a series of sculptures which pay tribute to Muscle Shoals music legacy. Sculptures are planned for Florence, Tuscumbia and Muscle Shoals and a grouping of 30-foot-tall music-related sculptures will be placed in a sculpture garden on the Tennessee River. The recycled aluminium for the statues was donated by local company Wise Alloys.
Muscle Shoals–Avalon Avenue in front of the Muscle Shoals Public Library
Unveiled in November, 2014, the second in the Singing River sculpture series depicts a bass player sitting on a session stool. Sculptor Audwin McGee modeled the work on Muscle Shoals Rhythm Section bassist David Hood. This sculpture is well-lighted at night and was also made from recycled aluminium donated by Wise Alloys.
For more information
www.singingriversculptures.org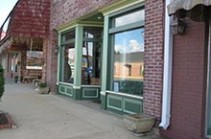 Red Bay Museum
400 4th St.
Red Bay
Tuesdays and Thursdays, 1:30 – 4 p.m. and by appointment
Admission is charged
A large exhibit is dedicated to country music star Tammy Wynette. The singer was born in nearby Tremont, Mississippi, and she frequently came to Red Bay to shop and visit relatives. The exhibit includes many of Tammy's personal belongings including gowns worn in concert, the wedding dress from her marriage George Jones and small pair of red cowboy boots she wore as a child on stage with her parents. A special feature is the iron gates from the entrance to her Nashville home with the initials TW and GJ.
For more information
256-356-8758
www.redbaymuseum.org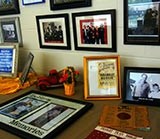 Delmore Brothers Exhibit
Calhoun Community College
Brewer Library – Delmore Room
Decatur Campus
6250 Highway 31 North
Tanner
Call for library hours
Admission is free
Alton and Rabon Delmore created a sound of close harmonies which, along with their songwriting and musical talents, made them stars of the Grand Ole Opry in the 1930s. The Delmore Brothers introduced "boogie woogie" to traditional hill music that led to rockabilly, the forerunner of rock and roll. The library houses the largest collection of Delmore Brothers memorabilia in Alabama. Artifacts include awards, family photographs and original recordings donated by the Demore family.
For more information
256-306-2774
Pathways: Walk through the History of Muscle Shoals
Muscle Shoals City Hall
2010 E. Avalon Avenue
Muscle Shoals
8 a.m. – 4:30 p.m.
Admission is free
Exhibits tell the story of the music legacy of Muscle Shoals. Other exhibits also relate the early history of the City of Muscle Shoals, including Wilson Lock and Dam.
For more information
www.visitmuscleshoalsal.com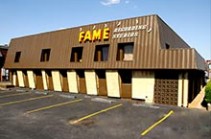 FAME Recording Studios
603 Avalon Avenue
Muscle Shoals
Tours offered Monday – Friday
9:00 – 10:00 a.m.
Admission is charged
FAME, established in 1959, was the first successful professional recording studio in Alabama and is the birthplace of the famous Muscle Shoals Sound. Studio owner/producer Rick Hall used proceeds from Arthur Alexander's 1961 hit "You Better Move On" to open the studio at its present location. The talents of the studio's session musicians, dubbed Muscle Shoals Rhythm Section (also known as the Swampers) and Muscle Shoals Horns, attracted musical artists of all genres. Rhythm and blues classics recorded by Wilson Pickett, Aretha Franklin, Clarence Carter, Otis Redding, Etta James and others drew world-wide attention to FAME. Pop artists Liza Minelli, Tom Jones, Little Richard and the Osmonds brought their talents to Hall, who also produced some of the nation's best country artists, including Shenandoah, Mac Davis, Jerry Reid and Darryl Worley. During the studio's half-century history, releases from FAME have sold more than 300 million copies worldwide. The legacy continues today with recordings of the best new pop, rock and country music, including Dylan LeBlanc, Band of Horses, Angela Hacker, Jason Isbell, Drive-by Truckers, Jamey Johnson, Gary Nichols and Ugli Stick.
For more information
256-381-0801
www.fame2.com